Getting the right fit while buying on-line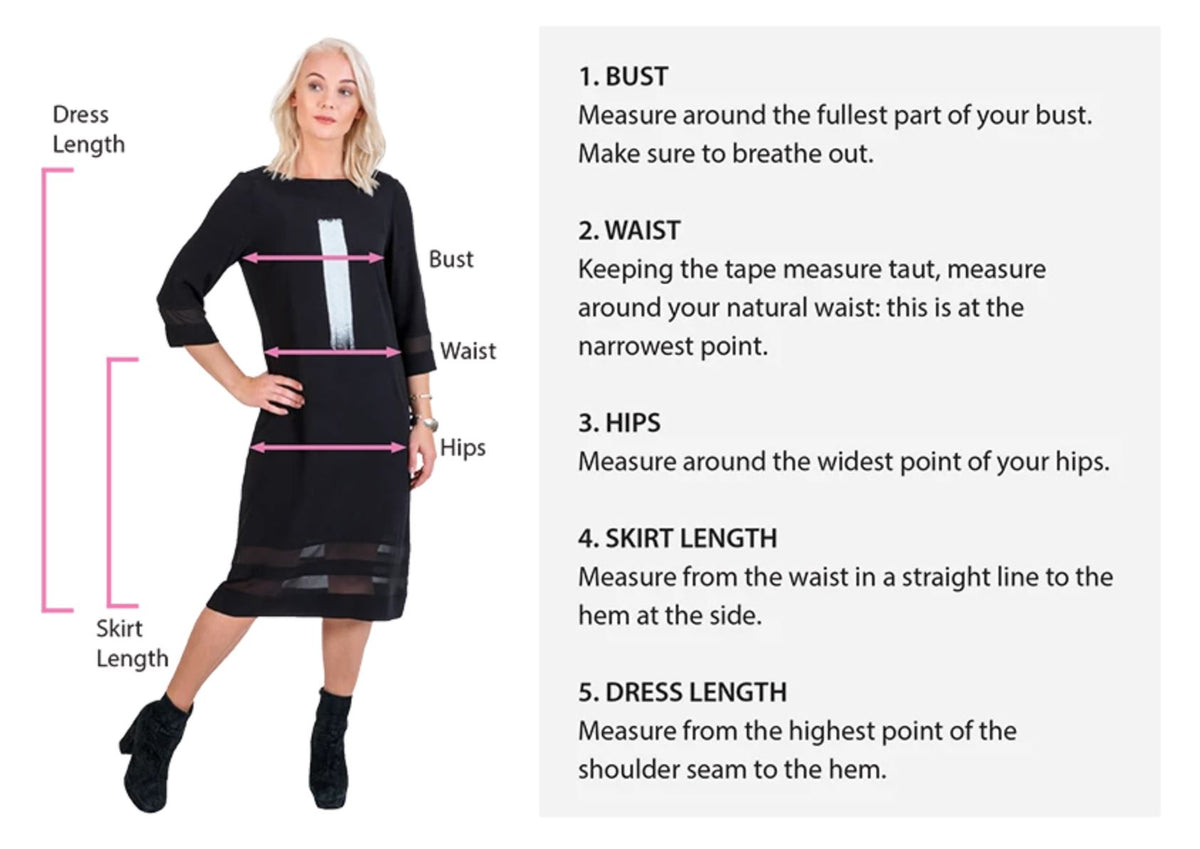 There is no doubt about it, finding a fabulous outfit online can be thwarted by getting the sizing wrong and although the fashion industry tries to standardise sizes there is considerable variation across brands and styles and because of this there is no one size chart that fits all situations.
Add into that that there are different sizing methodologies in different countries and regions, and you can see why the problem exists.
To help our clients to be confident buying on-line we try and give as much information as possible but still Size Charts can be confusing, so we recommend you take your measurements according to this graphic.
Keep your key measurements saved somewhere so you can use them when shopping online and increase your purchase success rates. When taking your measurements, always compare them to pieces of clothing that you know fit you well, as this will help you understand how and if something will fit. 
Just remember garment measurements are normally half the circumference of the garment and when you are measuring your own body you are measuring the circumference.
PANTS:
For most people buying trousers online is one of the trickiest things to do, but if you have these 2-3 key measurements to compare with the websites garment sizes then you should be good.
Front rise (D): What we recommend is to find your favourite trousers and measure the front rise. The Front Rise is the seam that runs directly down the centre of your trousers, often with zip or button fly.  It goes from just under the waistband to where the inner leg seams meet the front and back seams. When you measure the front rise make sure you follow the curve with your measuring tape!
Hips (C and 3): Many people measure the hip of their trousers, but it is more accurate to measure your own hips, at the widest point. Measuring your own hip means you can see if the garment will be a tight or loose fit, which all depends on your preference and style. Just make sure you keep the measuring tape straight for this one!
Waist (B and 2): This measurement does not apply to elasticated waists, but if the hip and front rise measurements are good then the elasticated waist should be good too. For waist bands that are fixed you want to make sure it is right for you, and you can determine this by measuring your favourite trousers again. Measure the waist band lying flat, place the front and back waist bands directly on top of each other to create a straight line (or as close as possible) then measure along the waistband.
If you use these 3 measurements accurately, you will be happy with the fit of your trousers. Do this every time you are shopping online, and it will be easier to eliminate styles that do not work for you.
TOPS:
 Finding the right top online can be trickier than trousers as there are so many styles and fits to choose from, and you need to consider the fabric and how it will fit and suit your body. When selecting a top, look at how it fits on the model, and look at what size they are - you can usually find this information on their product pages. Once you have this information, compare it to your own size and likes and with a similar top, if you own one, and this will give you an indication of how the top will look on you.
We also recommend not wearing anything too bulky when measuring.  Then compare the garment measurements with either yourself or a top you have that is similar. When measuring yourself try not to be wearing anything too bulky.
Chest or Bust (A): The chest or bust measurement is the most important one for tops, so it is key to get it right. Make sure that the measuring tape is as level as possible and measures the widest point across your bust. This will give you an indication of how tight or loose the top is on your chest. You could also measure a top you already have and like the fit of. Make sure you place the top on a flat surface and smooth it out as much as possible without stretching it and measure down 2.5m from the under-arm seam on both sides then at this point measure across the garment. You can then compare with the website's garment measurements.
Length (E): Length is quite important as whether you want it cropped, waist, hip or something in between will vary. Take a top you already own, and lay it flat, measuring straight from the centre back neck seam to the hem edge and compare to the garment measurements.
Hem Width (F): Hem width allows you to understand how the top will fit on you. Again, measure your comparison top by laying it out flat but not stretched. Measure straight along the hem edge. One thing to bear in mind, is that garments are stitched together by skilled machinists, so individual garment measurements may vary slightly.
OTHER CONNSIDERATIONS:
If you have any questions about measurement points, please feel free to contact us at info@lumafashions.co.nz  and we can give you the details.
Descriptions:  Added to these measurements also take note of the descriptive words the brands have used when describing the styles.  Loose,  Relaxed Fit, Fitted, A-line, Boxy. Brands are not trying to trick you into a style so pay attention to how they describe the fit. 
Technology & Data: Brands are tapping into virtual and augmented reality to help improve the experience when shopping online. Doing some research on-line can be invaluable for better understanding different Brand fit ideology.
Returns: Free returns have many advantages, especially from a free collection point of view, and you shopping online can be risk free. However, it isn't great for the environment, as it increases CO2 emissions and carbon footprint, and many fast fashion brands will send your return straight to landfill. So we definitely recommend doing your research before buying if you're trying to be more socially conscious.
Do not let it stop you: However, if you have found clothing that you will wear a lot and that is a good addition to your wardrobe, do not let having tried it on stop you from making the online purchase.
Still concerned? If you have your measurements contact us for any more specific questions. We will do anything they can to help.  And in the worst case it can be returned – it just may not be free. 
|
Posted on April 14 2021